Aquamagic Yachts Limited are marine project managers and consultants, as well as Auckland based boat builders and repair/refit specialists providing a full range of services to boat owners around New Zealand and overseas. Aquamagic Yachts were Emirates Team New Zealand's project manager for the build of their 2017 America's Cup AC50 race yacht.
We offer project management of new builds and refits, of any size or scope; solutions to technical marine problems; interior layout, detailing and design; and clarification of your requirements to suit your boating ambitions. We can even improve your boat-handling or competitive performance... With our experience we'll take care of it — for you or with you. Your satisfaction is our priority.
Aquamagic services include:
Project management and consultancy
Are you wanting to build or purchase a new boat but don't know where to start? Our consultancy service will assist you in determining the size, type and style of vessel to best suit your requirements.
Have you already chosen a great yard to build your boat? Let our project management service take the stress out of the process, leaving you with all the fun and excitement of having a new vessel built to your personal requirements.
Are you thrilled with your plans for the structure of the boat, but would like some assistance making it come alive with the use of colour on the exterior and interior styling? We can help you with the interior layout, overall or detailed, and the selection of timber, colours, fabrics, bed linen, cutlery and so on. We enjoy working with owners to realise their design vision.
Creative marine solutions
Share your specific marine problems with us. With over 30 years in the marine industry, we will help find the best solution to any practical or technical difficulty you may encounter.
Individualised sailing and boat-handling instruction
For those looking to broaden their boat-handling skills – whether driving a 3-metre tender or a 30-metre sailing cat – we have a lifetime of hands-on knowledge to share.
If you want to improve your entry into the marina berth, or your sailing and race performance, with our years of experience boating and competing in local and international regattas, we are well placed to assist you.
I have no hesitation to recommend Phil Salthouse as a professional in yachting – not only as a boat builder with a lot of common sense, practical experience in all areas of a yacht – but also as a boat handler – as proven on the many regattas he has been sailing with me – some quite successful indeed – such as the 2004 Raja Muda off the Malaysian Coast.
Performing always with a smile – and pushing everybody at the right moment – he is also a good team member – a pleasant person to have around.
Peter Cremers , Owner/Skipper – Shahtoosh 2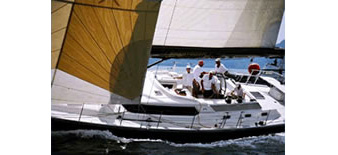 Shahtoosh 2 on her way to winning the 2004 Raja Muda
International Regatta with Phil Salthouse on board